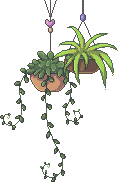 CHARACTER BIO
---
Maple, ZOZO, and I guess Tina (the redhead) are these characters I'm developing for a comic I want to make.
Maple is pretty much the biggest self insert however. It's basically going to be a comic very loosely based on my own life. Obviously with fictional elements.
I don't want to spoil anything right now though, so that's all yer gettin'! >:D
just a girl and her demon...!